Davenport garden
Situated high on Mt Rogers with views to Lake Ginninderra, this large garden offers flowers in abundance. One of the main delights in spring is the laburnum walk with its cascades of yellow flowers.
Photos of Davenport Garden: Shirley Pipitone
About the garden: 
Several distinct garden areas display an interesting variety of shrubs and trees, fruiting plants and a modest vegetable garden. Many of the plants will be in flower, including a range of roses. Compost bins and worm farms contribute to the sustainability of the garden. The garden owner will give talks on garden design and planting on a small block, suitable for the more elderly.
The garden owner is raising funds for Alzheimer's Australia ACT. Please browse the charity stall.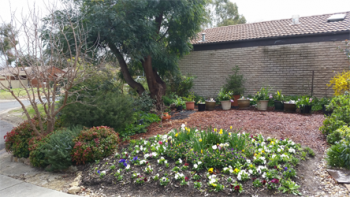 Photo: Tom Baker