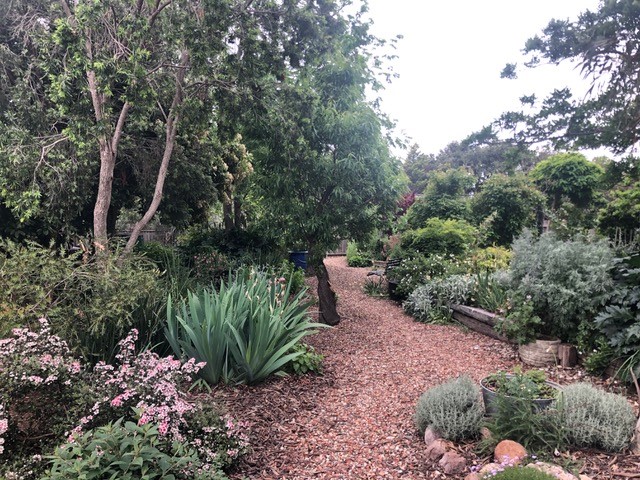 Nevertire
9 September @ 10:00 am

-

10 September @ 4:00 pm
This large naturalistic garden is a great garden to explore.  Plants have been selected for hardiness in this exposed site and suitability for their 1880s cottage, which was moved to this site in 1925.   The owners have continually re-developed the garden using a large range of native and exotic plants include spring bulbs, unusual roses and Mediterranean shrubs and ground-covers.  The garden features very large pots used for bromeliads and water features and art pieces.  There is also an expanded food production area, a mulching zone and relaxation areas. This garden has continued to evolve since its first opening in November 2021. Nearby attractions include a River Walk and Queanbeyan's Floriade gardens (see below).
Displays of stained glass, leadlight and mosaic items by Rachael from Groovy Glass ACT for sale.
Nevertire Garden Notes are available.









Accessible to wheelchairs and prams, however much of the garden has a gravel surface.
PARKING : Parking in Queanbeyan Railway carpark is recommended. There is a short walk along laneway next to rail line.
NEARBY ATTRACTIONS: Visitors are welcome to use the carpark at the Queanbeyan Railway Station in Henderson Road and then walk on the path eastwards towards McEwan Avenue, along the railway line, to Nevertire. Visitors may also like to view the Floriade beds just across the small bridge in McEwan Road into Oaks Estate.   There is also the walk up the Queanbeyan River, accessed by crossing McEwan Avenue and following the walking track to the Railway Bridge.  There will be a guide to the  heritage and environmental values of the River Walk available at Nevertire Open Garden.
Tickets for non-members can be booked through Eventbrite.
Supported charity: Queanbeyan Wildcare
Share This Story, Choose Your Platform!
For an explanation of the icons we use, click here
| | |
| --- | --- |
| Opening hours: | All gardens are open from 10am to 4pm Saturday and Sunday. |
| Member entry: | Garden entry is free for members, and members don't need to book. |
| Visitor entry: | Garden entry is $10.00 for visitors 18 years and over. Special pricing may apply to some openings. |
| Booking: | Visitors can use the Eventbrite link in the garden description above to book and pay for their tickets. |
| Memberships: | Join Open Gardens Canberra for only $30 and all gardens are free for the membership year (to end June). |